President : Monalisa Chandra
Monalisa Chandra is a behavioral scientist by training, with special focus in women's and child health. She is a lecturer at the University of Houston in the department of Sociology and also a doctoral candidate at the University of Texas School of Public Health majoring in Behavioral Science. Monalisa's, research includes breast, cervical cancer, HPV vaccination and perinatal substance use. She is also a member of the educational committee of Neonatal Abstinence Syndrome Collaborative of Greater Houston. She has a M.A. in Sociology, and B.S. in Economics and Sociology from University of Houston.
Vice-President: Ashma Khanani-Moosa
Ashma is a registered nurse working 28 plus years as a clinic administrator/triage nurse at La Porte Clinic, Houston. She is also a certified integrative health and wellness coach. Ashma is an executive Board member of The Rose (a nonprofit for breast health), health committee/board member of Clear Lake Islamic Center (Houston), volunteer and past chair of MD Anderson Survivorship Conference 2015. She also served on the Medical Mission to Rohinya refugees in Bangladesh under the Islamic Muslim American of North America (IMANA) in 2018.
Dipika is a VP of Accounting with Memorial Credit Union and received her BS from India. Dipika has 25 years of experience with financial institutions. Dipika's experience and strong leadership personality contributes to the continued success of IACAN. Dipika volunteers her time at community and social organizations in Houston. She has been an active volunteer of IACAN since its inception.
Secretary: Raju Nandagiri, BS
Raju Nandagiri has been active in the Houston community since moving here in 1975. She completed her bachelor's of science degree in Hyderabad, India and a specialized training program at The University of Texas M.D. Anderson Health Science Center in histotechnology. She spent her career working at M.D. Anderson Cancer Center primarily focused on breast cancer research alongside some of the most prestigious doctors in the country. This work initiated her passion for educating others and supporting those who have faced the challenges of a cancer diagnosis. After her retirement, she began volunteering for various community groups and has been an active member of Chinmaya Mission
Dr. Jagan Sastry is a professor in the Department of Thoracic Head and Neck Medical Oncology at The University of Texas M. D. Anderson Cancer Center, Houston, TX.  His group's research in the broad areas of viral oncology and
immunology focuses on understanding the biology, pathology, and genetics of two viral diseases impacting human health: HPV associated cancers and HIV-induced AIDS.  He has also been a member of The University of Texas Graduate School of Biomedical Sciences (UT GSBS) at Houston for over 25 years and mentored several post-graduate/post-doctoral trainees and junior faculty members in the areas of virology and immunology. He is enthusiastic about serving on the board to assist with educational events by connecting IACAN with reputed clinician-scientists to speak at the educational events organized by IACAN.  He, and his wife Mani Sastry, a well-known singer and performer, have been long time residents of Houston with active involvement in several community organizations and events in town
Dr. Kanojia is an accomplished academician and yoga practitioner & teacher. Her education and training is in the area of health policy. She is interested in enhancing public health and well-being among adults and children. Kanojia teaches and volunteers at various institutions and organizations across the greater Houston area. Her first book on yoga and health policy will be coming out later this year.
Sarvesh is a Project Engineer with Bechtel Oil, Gas and Chemicals, Inc., Houston. He graduated with a Bachelor's and Master's Degree in Chemical Engineering, and worked in New Delhi and London before moving to Houston in 1997. Sarvesh has been actively involved in organizing Marrow Drives in the South Asian community and works closely with the Gulf Coast Marrow Program, the local affiliate of the National Marrow Donor Program.
Vibhuti is a biochemist. She has worked in cancer research publishing papers on liver perfusion. She is a past president of DAYA and an active community leader and volunteer.
Shikha Khatri is a molecular biologist by training and currently teaches Biology at Lone Star College. Her passion is to apply her academic knowledge to improve physical and cognitive function through impactful nutritional and lifestyle changes. Her kitchen is often her lab, she the test subject, with the ultimate goal of sharing the successful outcomes with her sphere of influence. She completed her B.S and M.S degrees in Life Sciences from the Univesity of Mumbai, a Ph.D. in Cancer and Molecular Biology from the Univ. of Cincinnati, and her post-doctoral training at Baylor College of Medicine.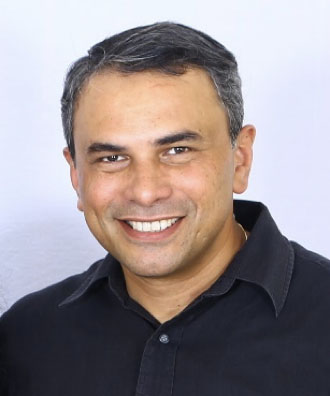 Ronald Abraham is a seasoned, technically savvy healthcare professional with over fifteen years of experience in molecular diagnostics at the world's premier cancer center. A Biochemist by training, Ronald acquired a graduate degree in healthcare administration from UHCL and is currently leading the operations of a pathology and biorepository facility for Leukemia at MD Anderson Cancer Center.  A lean champion and a past participant of the MD Anderson Cancer Center's Clinical Safety and Effectiveness team, he is enrolled in the Diversity, Equity and Inclusion (DEI) champion program at the institution.  
Honorary Board Member Consul General of India Shri Aseem R. Mahajan